If you'd rather not drop in to see the Queen for tea, Victoria has plenty to offer the mindful traveller. With neighbourhoods like Pimlico, Westminster and Belgravia within walking distance, you'll be able to enjoy the quaint residential streets and explore hidden gems that the city is (sometimes) good at hiding.
Manicomio, Chelsea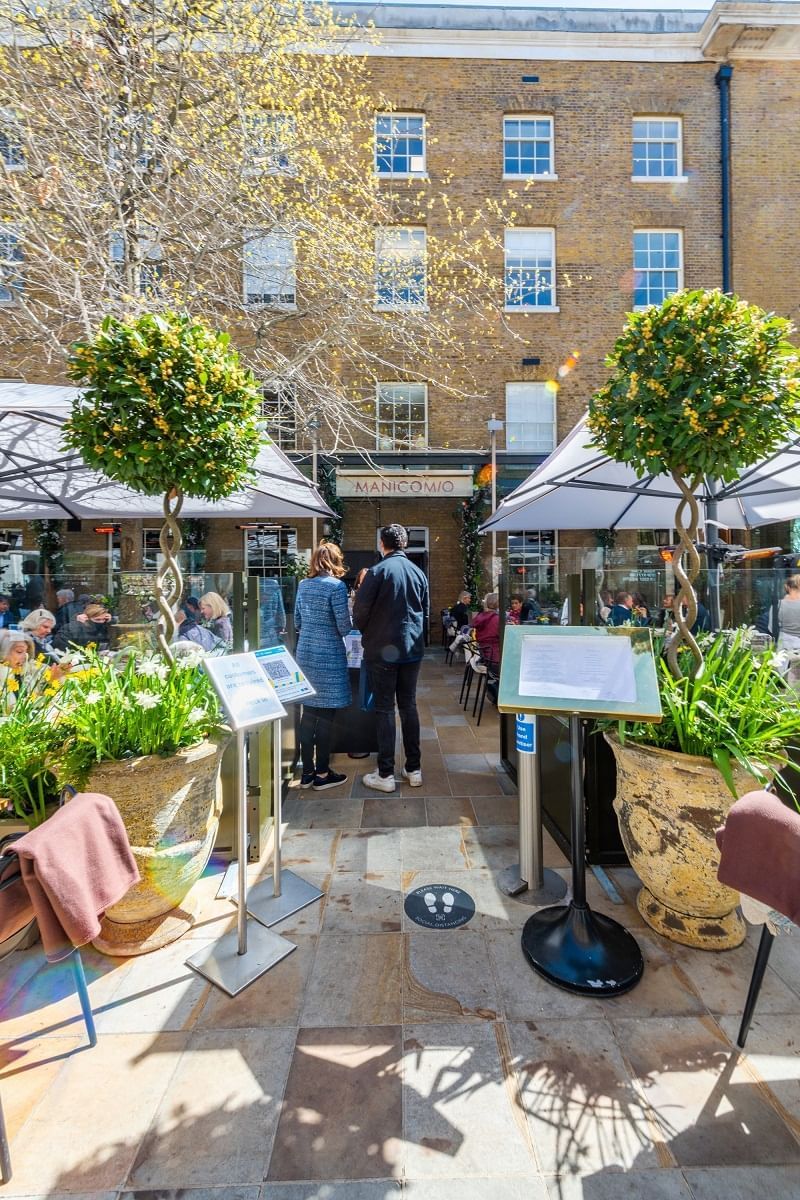 This modern restaurant has a very pretty heated outdoor terrace decorated with flowers and greenery, making you feel like you're in an Italian garden. The menu uses British produce for a selection of classic Italian dishes including focaccia, deep fried zucchini, grilled meats and fresh pasta made daily in-house. If you fancy a cocktail, we recommend trying the Sbagliato Martini, mixing all the fun of summery aperol with a mood boosting shot of espresso.
Wulf & Lamb, Chelsea
Known for their mac'n'cheese and burgers, Wulf & Lamb in Chelsea have a plant-based menu that focuses on familiar comfort food classics. They do breakfast, lunch and dinner so think of them as a reliable source of nourishment, whatever the time of day. We recommend their brunch menu where you can choose between colourful buddha bowls or stacked and fluffy american pancakes.
As for where you'll sit, you can enjoy outdoor seating at the front of the restaurant or, if you'd rather skip the hustle and bustle, there's also a palm tree courtyard at the back of the restaurant where you can soak in a quieter atmosphere. One thing to note if you do visit Wulf & Lamb is that they are completely cashless so don't forget your cards, or your phone.
Grumbles, Pimlico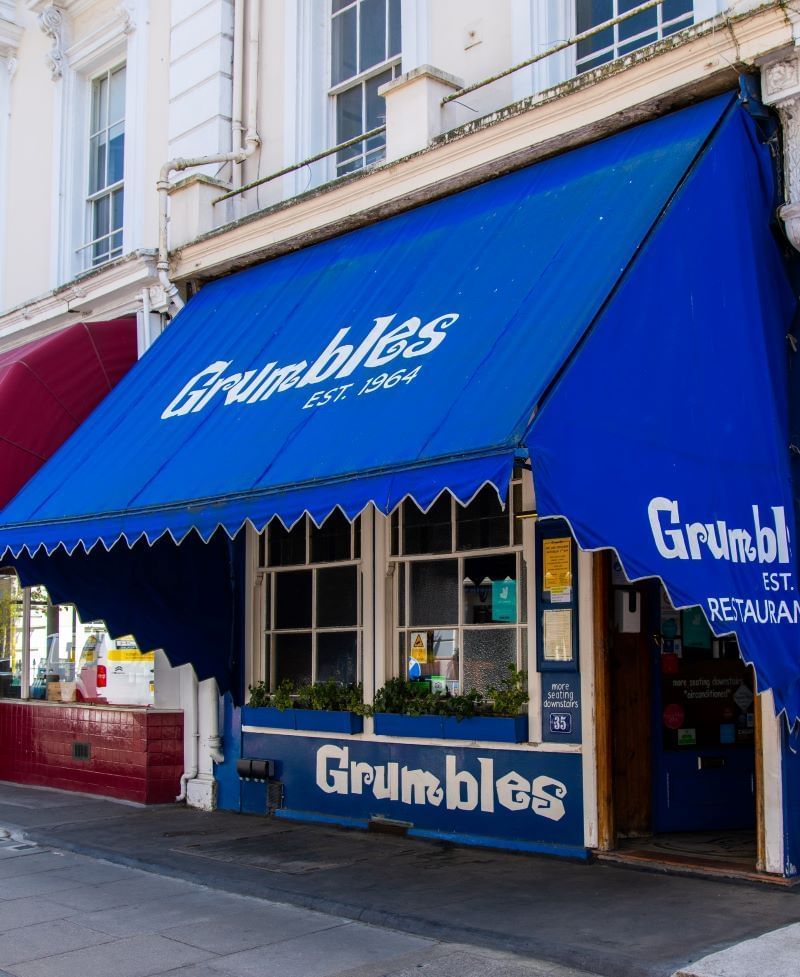 Grumbles is another Pimlico legend, an independent restaurant that's been kept the same for 50 years. Think of it as a cosy and charming bistro, where the staff all know your name (once you've told them) with reliable classics on the menu such as cod in beer batter with chips and minted peas, chargrilled ribeye steaks, and Eton mess for pudding.
Alfred Tennyson, Belgravia
Alfred Tennyson is a pub-slash-restaurant mix that serves local, farm to fork seasonal food. They work directly with farms and boutique wine producers (highlighted on their website). Obviously, you'll also have a large selection of drinks to choose from as you sit outside, on a quiet residential street in beautiful Belgravia.
Rather not make the trip? Chefs at Alfred Tennyson have thoughtfully shared their signature recipes on their blog. A highlight is their Bramley Apple Pie recipe which you can find here. To whet your appetite before your trip, try making this pastry filled with apples and brandy, finished with salted caramel sauce and topped with pecans and orange zest.
Moo Cantina, Pimlico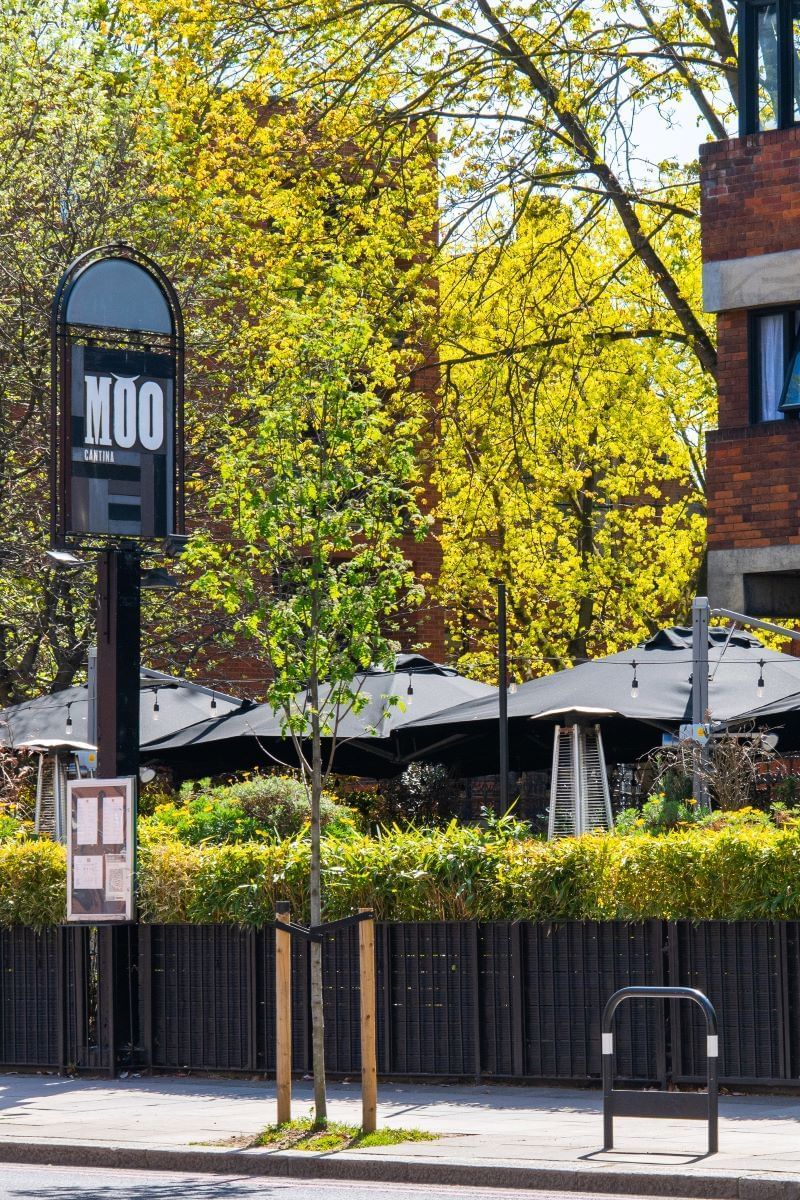 If you'd like to eat in an outdoor restaurant in London but not feel like you're sitting in the middle of the street, Moo Cantina in Pimlico has a fully shielded outdoor terrace. It's also heated. As for the food, the menu specialises in the Argentinian charcoal grill, with cuts of Black Angus beef from the Argentinean Pampas. They don't only do beef, with interesting flavour combinations, such as grilled pineapple sauce on their nachos and souped-up halloumi fries topped with pomegranate seeds and sriracha.
For those who want to stay outside a little while longer, we hope our al fresco suggestions help make your trip a little more special. Our concierges are always here to give you all of our best and (secret) recommendations of where to eat, drink and be merry. Enjoyed our selection of Charing Cross pubs and bars? Why not discover the top the bars in Piccadilly Circus.