In London, shopping with your favourite luxury fashion house can also mean enjoying food and drink all as part of the same experience. With the centre of the city home to so many flagships, brands have curated experiences, from themed cafes to fashion cafes, that bring in themed dishes that align to their ethos in cafés, restaurants and bars located in the same building as their retail offering.
We've compiled a list of our recommendations for the most instagrammable cafés in London, all affiliated with luxury brands or located in unique shopping spaces below.
Marchesi 1824, Prada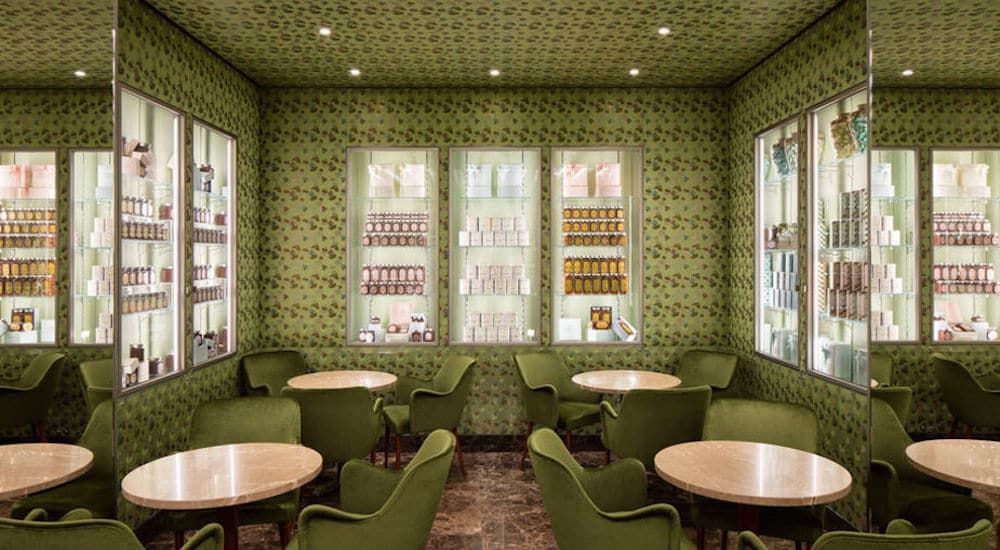 The Prada group is the majority shareholder of Marchesi 1824, one of Milan's oldest cafés. Luckily, you don't have to travel all the way to Italy to visit, as their first international location is right here in London. The interiors are traditionally Italian (and stylish) with green wallpaper and green velvet chairs with the original tiles restored to their former glory. They sell a selection of pastries, prepped in Milan and baked fresh onsite, as well as bonbons and candies like sugared almonds to take away. Cakes and sweets all come in signature pastel coloured packaging, perfect for gifts to the luxury lover in your life.
The Tiffany Blue Box Café, Harrods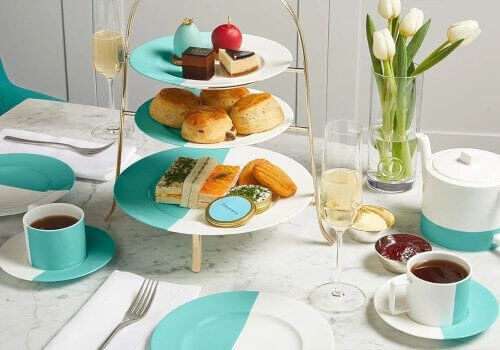 If you're looking for cafes near Harrods, why not look inside the Knightsbridge institution, which boasts the only Tiffany's Café outside of Fifth Avenue, New York. Complete with Tiffany blue tableware and Tiffany jewels on display, this café serves breakfast, afternoon tea, New York style pancakes and filled bagels. For Breakfast at Tiffany's (just like Holly Golightly) there's a menu including fresh croissants, champagne and crab muffins. For afternoon tea you can expect the full service with mini black truffle, smoked salmon and coronation chicken sandwiches, themed Tiffany blue cakes and pastries and fluffy scones with cream.
Arket Café, Regent Street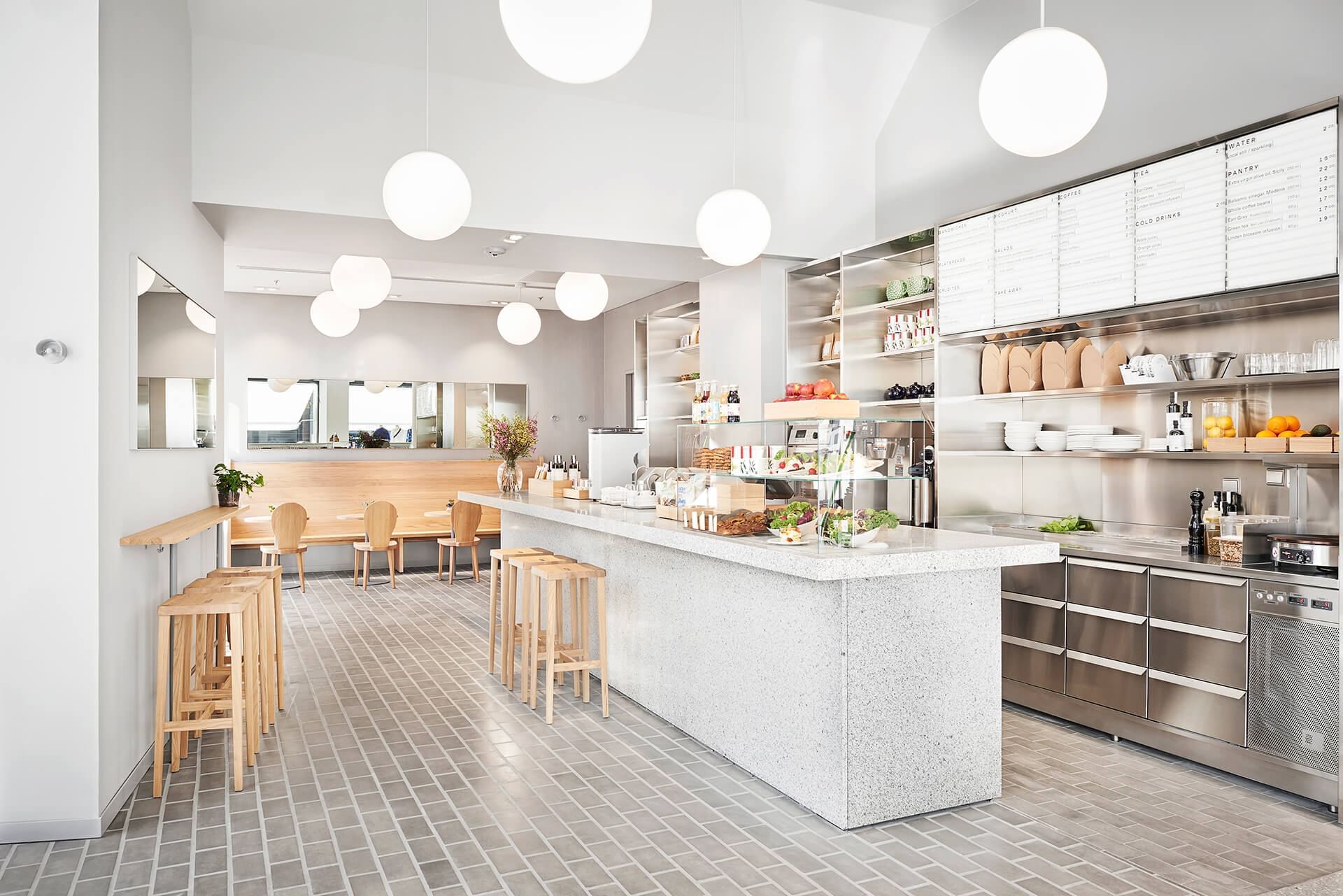 Arket is a modern Swedish market and lifestyle destination with a range of vegetarian and vegan cafés located in their London store on Regents Street. Founded in collaboration with Chef Martin Berg and based on the new Nordic food movement, their menu's focus is on seasonal fresh produce with dishes such as yellow pea hummus wrap, Swedish pastries and summery iced Earl Grey teas. As part of their ethos, all of the food packaging for takeaway is sustainable, and you can pick up their cookbook to try the dishes at home too.
123V, Fenwick Bond Street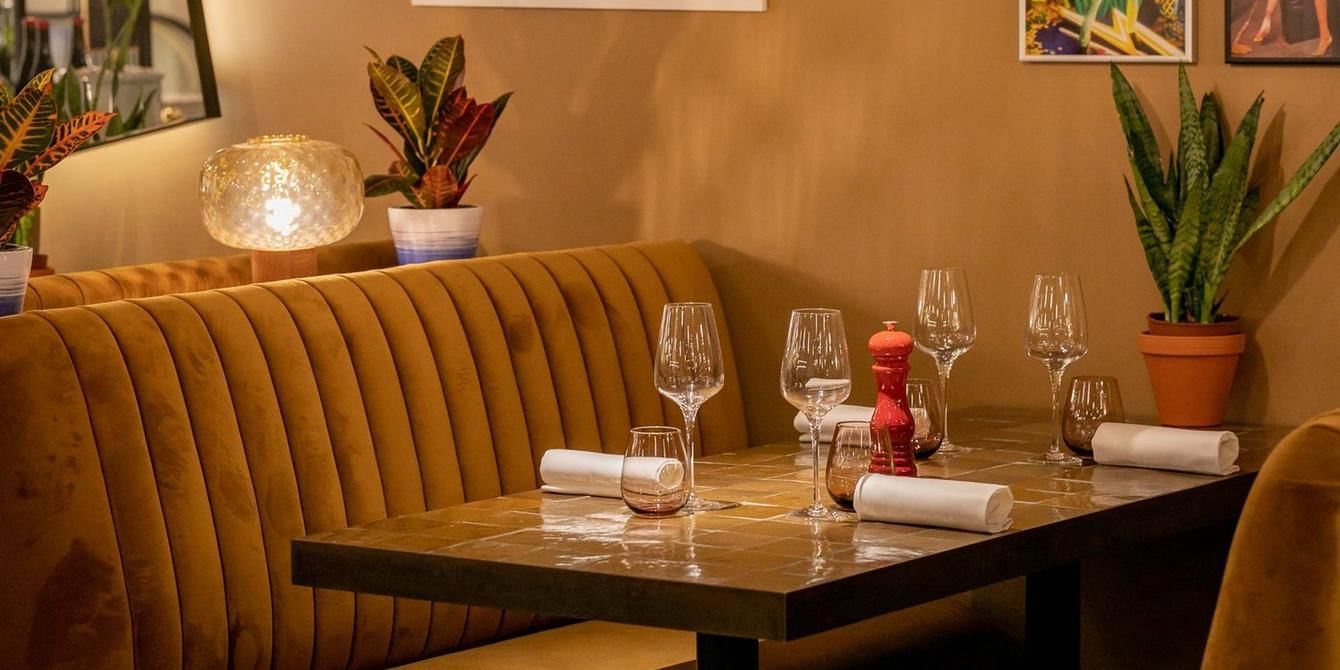 Fenwick is a department store on Bond Street that brings together luxury and designer brands from all over the world into a curated shopping space, and home to one of the best vegan cafes in London. Alongside their Clarins Skin Spa, La Prairie Beauty Room and Radio Hair Salon is the 100% plant-based restaurant, 123V. Featuring dishes from all over the world, the menu transforms meat-based dishes to ones that are vegan and vegetarian with clever substitutions. They're most well known for their vegan sushi, served at their bar with faux salmon and tuna that looks just like the real thing. You can also take a course in how to create and prepare their famous plant-based sushi, with tips on techniques and ingredients.
NatashKino, Mayfair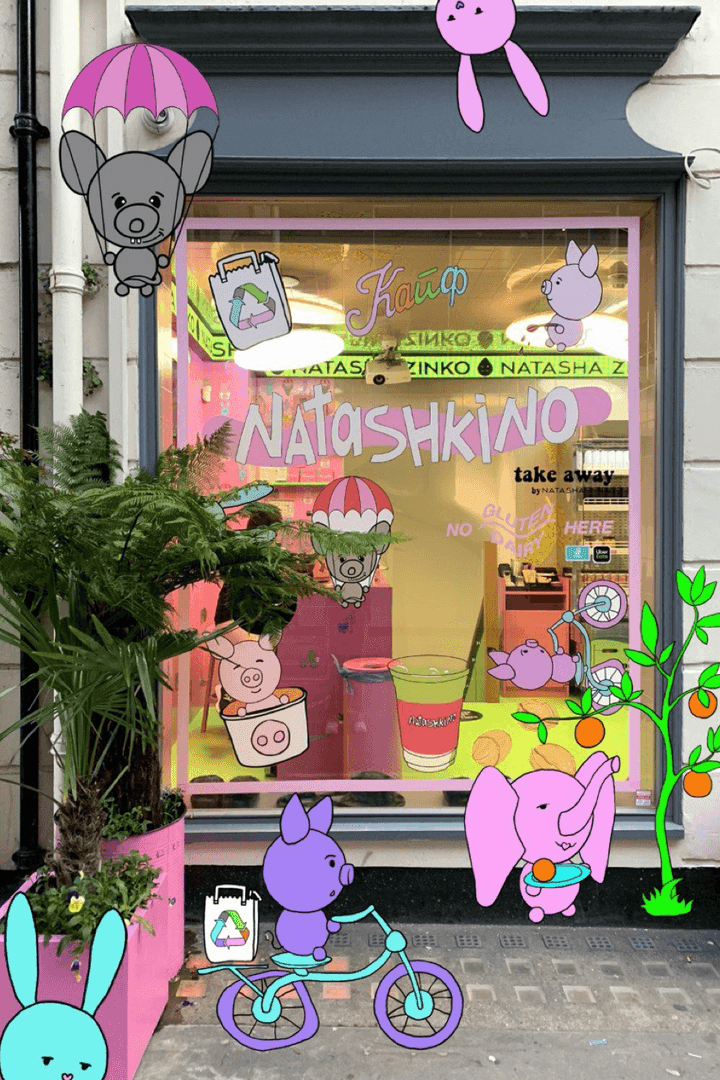 London based fashion and jewellery designer Natasha Zinko is the mind behind the next unique London café, NatashKino. Located in Mayfair, this is a café concept built around zero waste, a love for colourful characters and shades of acid pink. The cakes and desserts on offer have plenty of gluten, dairy and refined sugar free options as well as CBD gummies and matcha lattes. The drinks and sweets are in your face, with many of them featuring expletive phrases so be wary to avoid visiting if you have younger people with you.
Rose Bakery, Dover Street Market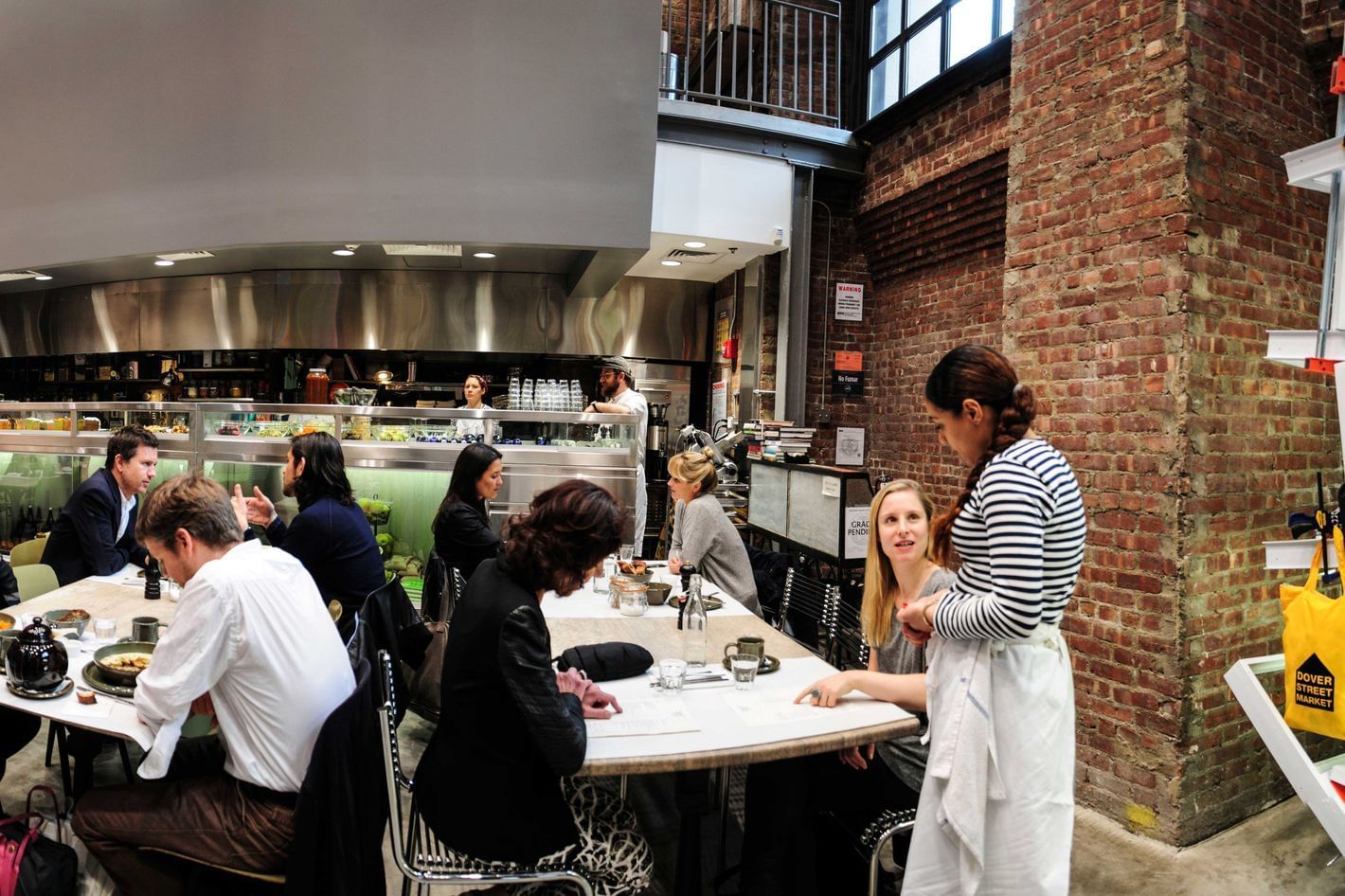 Dover Street Market occupies the former Burberry building in Mayfair and is home to multiple floors featuring high end designer brands with a streetwear twist. Founded by the creators of Comme des Garçons, they teamed up with the Parisian café, Rose Bakery to bring the concept to their London space. This themed café stocks homemade granola and jams to take home as well as cakes, pastries and quiches. The menu changes seasonally to reflect available produce with dishes like wild garlic pappardelle with morels and stuffed courgettes.
Shreeji News and Magazines, Marylebone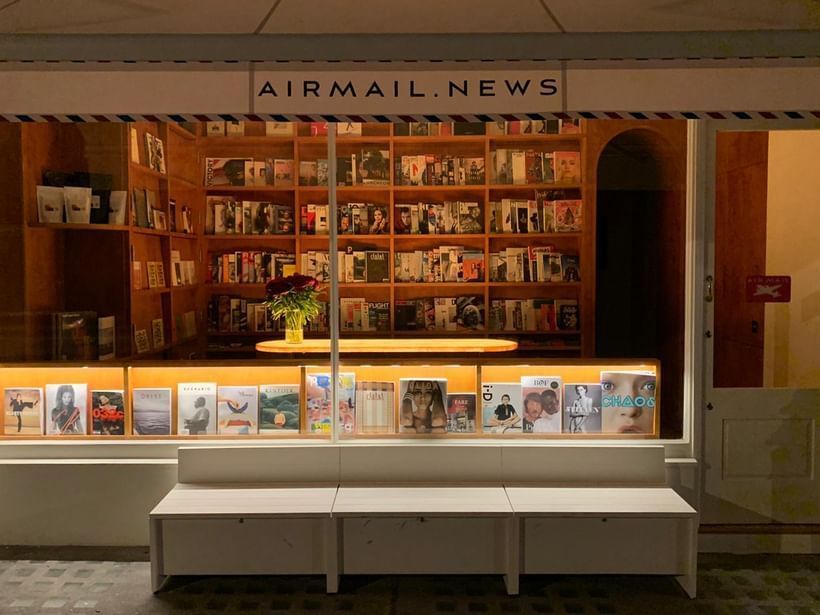 This newsagent on Chiltern Street is a hub for creatives in the city, stocking niche magazines from all around the globe spanning architecture, design, fashion and lifestyle. A well-kept secret however is their coffee bar and reading rooms placed in the back of the shop. Designed by Gabriel Chipperfield and curated by Laura de Gunzburg, the London café features a mix of vintage and contemporary furniture and knick-knacks - with most items available to buy in the pop-up interiors shop, The Artichoke.
Dior at Alto, Selfridges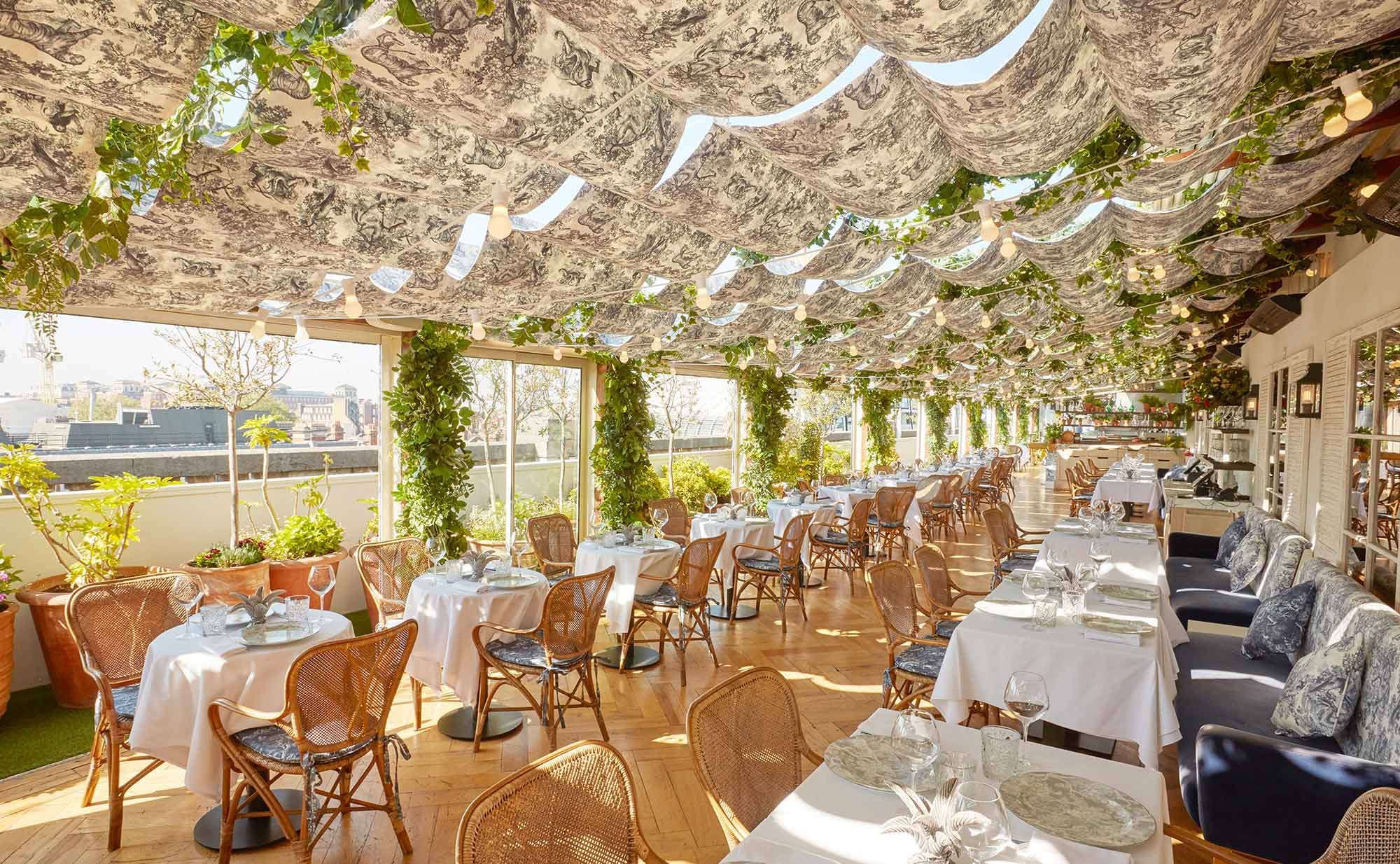 The rooftop restaurant at Selfridges has been taken over by Dior and is home to a unique fashion café inspired by the French Riviera. Celebrating the iconic 'Toile de Jouy' print, items from the Dioriviera collection (like surfboards) are on display too. Themed specials on the menu include Salade
Niçoise, lobster rolls and choux buns filled with pistachio, blackcurrant and raspberry cream. If that wasn't enough Dior, you can also enjoy themed cocktails like 'J'adior Selfridges' (blackcurrant and lemongrass vodka, honey water and champagne) or the 'Dior Star' (X by Glenmorangie, passion fruit liqueur, and soda).
Bourdon House, Alfred Dunhill Mayfair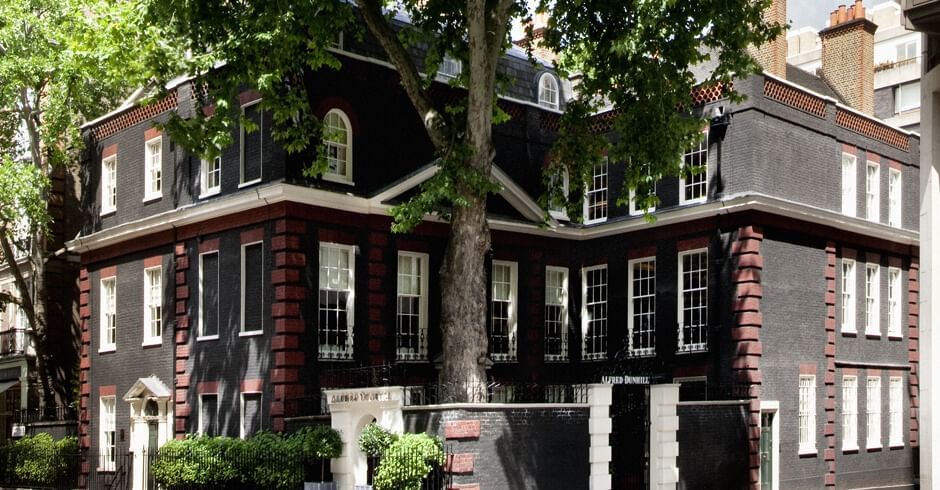 Located in the only detached house in Mayfair, this Georgian mansion of three floors is home to the ultimate Alfred Dunhill experience. The top floor is dedicated to bespoke suiting, with a spa and barber shop. You can also shop for ready-to-wear suits, cufflinks, casual wear and leather goods. On the lower floors, there's a humidor that sells exclusively Cuban cigars and a screening room with a British made sound system. As for food and drink, there is the Cellar bar, a unique London café with a courtyard serving lunch, coffee, cakes and the occasional tipple.
The Monocle Café, Marylebone

The Monocle Café in Marylebone serves as an extension of the lifestyle magazine and media brand, with the only other branch in Zurich, Switzerland. You'll be able to browse the latest issues with Allpress Coffee pastries from Japanese patisserie, Lanka. If you're after something more substantial, there's a menu inspired by Japanese and Nordic dishes and drinks - think Aperol spritzes and gin and tonic.
For cute cafés in London to inspire your next shopping trip, look no further than our Out and About blog. As London enthusiasts, we have collected insider tips on the most unusual and unique cafés in London that are worth a visit. With our central location in both Charing Cross and Victoria, you're never more than a hop, skip and jump away from experiencing the best London has to offer.